THE THREE MAGI AND A WORLD MADE OF STONE
01/14/2019 14:14
It has been a dark, gloomy and cold day here in Rome. Less than a week is left before Christmas Eve, decorations and Christmas shopping ads to the sullenness, reminding me of childhood Christmases, my parents' death and my increasingly fragmented family. Since a long time back our daughters have become adults. They live far away in different places, having created their own way of living. It is uncertain whether our oldest daughter and our little grandchild will celebrate Christmas with us. Nevertheless, today I decorated our Christmas tree. On my way back home, after sitting and writing in my "studio" I walked straight into a cold and dirty puddle. Few things I annoys me more than getting my feet wet. While the soggy socks swell the shoes become cramped and my frozen feet do not dry. As the old man I have become, I am mumbling to myself.
I also felt miserable by the same time a few years ago. Living alone in Paris I had during a dreary and dark evening on behalf of my job been on my way to a meeting, but had not been able to find the address. Perhaps Paris was a bleak sight last Christmas as well, after "the yellow wests" in a rage over raised diesel prices had burned cars and crushed storefronts along the Champs Elysée. However, to my knowledge there had been no snow slush in the streets. Maybe they had not raised the Ferris wheel in front of the Tuilerie Gardens? Probably the traditional Christmas market along Champs Elysée had been closed down as well, like museums and several warehouses, due not only to the riots, but perhaps also because the fact that a fanatic, Islamist radicalized lunatic once again had destroyed Christmas joy. In Berlin 2016, one of his kind had mowed down children and others with a heavy truck, while this individual had with a hand gun and a knife killed five people and injured a lot of other visitors at the legendary Christmas market in Strasbourg.
During the specific Christmas time I came to remember when I today strolled along the wet streets of Rome, the beginning of Champs Elysée by Place de La Concorde had been lined with festively illuminated market stalls with an abundance of treats and warm fragrance. Cheer- and colourful, sparkling ornaments from various corners of Europe; Russian painted eggs and miniatures, mechanical toys from Germany and England, Italian nativity scenes and much more.
That miserable evening almost ten years ago, I ended up in front of a Italian crèche, which with its magic was lighting up the wintry gloom. I forgot my moisture-frozen feet as I watched Balthasar kneel before a chubby Jesus child who curiously was stroking his beard, while the lavishly dressed Melchior and Kaspar smilingly watching the tender scene. Behind the three Magi waited their camels and horses, tended by their exotic servants. I admired the scene together with a fascinated group of small children, united with me in a sense of devotion and fascination:
Now when Jesus was born in Bethlehem of Judaea in the days of Herod the king, behold, there came wise men from the east to Jerusalem, saying, where is he that is born King of the Jews? For we have seen his star in the east, and are come to worship him. When Herod the king had heard these things, he was troubled, and all Jerusalem with him. And when he had gathered all the chief priests and scribes of the people together, he demanded of them where Christ should be born. And they said unto him, In Bethlehem of Judaea: for thus it is written by the prophet, and thou Bethlehem, in the land of Juda, art not the least among the princes of Juda: for out of thee shall come a Governor, that shall rule my people Israel. Then Herod, when he had privily called the wise men, enquired of them diligently what time the star appeared and he sent them to Bethlehem, and said, Go and search diligently for the young child; and when ye have found him, bring me word again, that I may come and worship him also. When they had heard the king, they departed; and, lo, the star, which they saw in the east, went before them, till it came and stood over where the young child was. When they saw the star, they rejoiced with exceeding great joy. And when they were come into the house, they saw the young child with Mary his mother, and fell down, and worshipped him: and when they had opened their treasures, they presented unto him gifts; gold, and frankincense and myrrh. And being warned of God in a dream that they should not return to Herod, they departed into their own country another way.
In the dark drizzle I was warmed by Christmas memories; the warmth, scents of the Christmas tree, mulled wine and gingerbread that saturated my parents´ apartment. Father and Mother had, while we were sleeping, transformed our home into a fairy tale dwelling. The nativity´s Magi and the Eastern mysticism they had carried with them, along with their gifts to the infant child. Their exotic clothes, the dark Caspar, their horses and camels. With them into Göinge's dark forests they brought with them a feeling from stories of The Arabian Nights, from Marco Polo's adventures, from the distant Timbuktu, Mecca, Samarkand, Agra and Karakarum.
On my way home on Le Métro, I closed my eyes and remembered what I heard, seen and read about The three wise men from the East. How disappointed I had been when I had not been allowed to enact one of the Magi during the church´s Christmas pageant, but instead had stood with a burning candle in my hand, quoting:
"The people that walked in darkness have seen a great light: they that dwell in the land of the shadow of death, upon them hath the light shined. For unto us a child is born, unto us a son is given: and the government shall be upon his shoulder: and his name shall be called Wonderful, Counsellor, The mighty God, The everlasting Father, The Prince of Peace."
My father's friend Pastor Hasslow gave the same sermon every Christmas; about a family who had forgotten to put Baby Jesus in the manger. I could identify with that mishap, the Three Magi were to me far more important than the child in the manger, without them, the shepherds, the donkey and the ox, the nativity scene would not have been particularly interesting.
When I was older I came across Michel Tournier´s The Four Wise Men from 1980, not as thrilling as his The Ogre, written ten years earlier, but filled with mysteries of the East, erudition and imaginative allusions the novel reminded me of another modern storyteller, Italo Calvino in his The Invisible Cities. I was gripped by a sudden urge to reread Torurnier´s novel, tonight in Paris´s gloomy and chilly loneliness. On my walk home I found Tournier´s Gaspard, Melchior et Balthazar in the bookstore by La Place Georges-Moustaki, not far from my nook by Square Adanson.
My French is lousy, but I still bought the book and when I had turned on the heat in my one-room apartment, which was quite cosy, I curled up under the bed's duvet and strangely enough found that I could grasp a lot of Tournier's story. It´s often archaic sounding language was mixed up with easy-to-understand and efficient contemporary storytelling. Tournier was a teller of tales and as his legendary ancestors he could out of concise Bible texts weave something even more amazing and tantalizing. In his tale, the journey of the Magi, just as in a medieval legend, became an outer and an inner pilgrimage, a search for confirmation, beauty and power, embodied by the experiences of each of the three men. Since it was a legend, the Magis were not individuals in the true sense of the word. Each one of them represented a specific type of person, becoming an illustration of a state of mind, a distinctive desire.
Gaspar, the black king of Meroë, was ashamed of his black skin, though he found that Infant Jesus had the same skin colour as he and was thus awakened to an insight that beauty and goodness can live and thrive behind superficial illusions. Blond physiognomy had before that instance eclipsed Gaspar's entire existence and become the ultimate cause of his despair. His obsession originated from the fact that the fair and blonde slave girl Biltine, whom he fell hopelessly in love with, had deceived and abandoned him with a white man whom she claimed to have been attracted to through the bright colour and splendour of his skin.
After that the desperate and disillusioned Gaspar sought any sign that could save him from his anxiety. As he in the night sky had discovered the comet that foreshadowed Jesus' birth, Gaspar interpreted it as a head crowned by swelling blond hair. However, after meeting with the black Baby Jesus, Gaspar realized that his feeling of inadequacy had been based on a mad pursuit of self-love and thus understood that divine love is so much greater.
The old and wise Balthazar, king of Nippur, had experienced how his magnificent art collection had been destroyed through the mad preaching of a fanatic priest, who had condemned the making of images. The destruction of his marvellous art collection made Balthazar despair about the meaning and value of existence. After a failed marriage, Balthazar had regained his joy of life through an increased appreciation of all kinds of beauty and built up a great museum, the Balthasareum, which became his pride, the "meaning of his life" and which he intended to leave behind him as a magnificent monument of himself.
However, after the museum had been looted and destroyed Balthazar's life became a ruin as well. In one day his hair became white, his back bent, his hearing weakened, his legs heavy and his male member shrunk. But, in the light of the radiance of goodness and innocent beauty surrounding the heavenly child, Balthazar's life became utterly changed through his realization that art can also be a means to approach the unfathomable mystery of beauty and goodness and is thus not at all despicable. He came to appreciate the immense beauty that surrounds us all and was thereby liberated from the curse of the loss of his art collections and found joy in the goodness of the people surrounding him.
Melchior, prince of Palmyra, had been expelled from his land by a deceitful uncle just as he would become its rightful ruler. Since then, Melchior drifted from land to land, blinded by hatred towards his entire family and bitterness over the loss of his earthly powers. However, when Melchior in the wretched stable found the god-child resting in a manger, he realized that it is possible to rule without violence and political machinations and was thus filled with a desire to establish a heavenly order on earth.
Through each of these men's life stories we become aware that obviously miserable and contradictory experiences may coincide with an insight fostering an acceptance of life's indescribable mystery. A discovery of the joy hidden in the abandonment of limiting desires and an acceptance of the beauty and goodness that is, after all, to be found within our short lives.
As in a medieval legend, Tournier added to the group of the three wise men a fool - Taor, prince of Mangalore, also known as the Prince of Delicacies. A pampered dilettante looking for rahat loukoum, a delicacy made out of pistachio nuts. Taor came late to the meeting with the Jesus Child, whom he had imagined to be The Divine Confectioner. Disappointed and disillusioned, he went astray in the wilderness of Sodom, was captured and ended up as a slave in an infernal salt mine. However, through a self-sacrificing good deed, Taor managed to save himself and his companions in misery. Thus, this obviously most lightweight king became the central figure of the story, its greatest and most human hero. A mirror image of a suffering Christ who through his fate revealed the fable's innermost message – that compassion is the true meaning and joy of life.
After reading the novel, I lay wondering if I had understood it correctly, considering my defective French. I fell asleep with a warm feeling inside. Christmas was on its way and I might have had a taste of its true meaning.
The following day dawned just as gloomy as the previous one. Rain was pouring down, but the snow had melted away. I woke up early, it was Saturday so I didn't have to go to work. I made coffee and roasted bread. I had during breakfast become accustomed to browse in art books. I opened a spread reproducing Carpaccio´s Ursula's Dream. The painting is part of a series of artworks displayed at Gallerie dell´Academia in Venice. They depict the legend of Saint Ursula, as told in The Golden Legend by Jacobo di Voragine.
Ursula was the beautiful daughter of a Christian King of Britain. She was desired by the son of the king of Anglia (a peninsula in northern Germany), who unfortunately was a "worshiper of images". Ursula agreed to marry him under the condition that the prince converted to Christianity and for three years respected her virginity, until he had become a completely knowledgeable and a worthy member of the Christian community. In addition, Ursula requested that she to Anglia had to be accompanied by no less than 10,000 Christian virgins. These prerequisites for marriage were so absurd that Ursula assumed that they would convince the prince of Anglia that marrying her would be impossible. Nevertheless, he eager prince agreed to the terms. From all over Europe, virgins gathered in England, where they were taught the Christian faith and baptized. They then sailed to the Continent to make a joint pilgrimage to Rome. On their way there, they made a stopover in Cologne, where an angel appeared to Ursula telling her that in the near future she would return to Cologne and suffer martyrdom. Ursula was not discouraged and brought with her the ten thousand virgins to Rome, where they were blessed by the pope who then followed them north. Outside of Cologne, the pious company was attacked by the pitiless army of the cruel and ungodly Huns. All the maidens, along with the pope, were massacred, with the exception of Ursula, who was desired by the King of the Huns (Attila?). However, when the saintly virgin scolded the mighty ruler of the Huns he shot an arrow straight through her heart. Jacobo di Voragine assured that this absurd story was true and that the martyrdom of the ten thousand virgins occurred in 238 AD.
In his Ursula's Dream Carpaccio depicts how the maiden in Cologne is sleeping in a matrimonial bed, which still lacks her intended spouse. In early morning the light of dawn falls into the room while an angel with a palm branch in his hand is arriving to inform Ursula that she will suffer martyrdom, though she should not worry because her suffering will guarantee her a place in Paradise. Particularly striking is Carpaccios´s depiction of the sleeping Ursula. She sleeps calmly. The Venetian master succeeds in creating an impression that Ursula is dreaming. A sublime image that remains in memory.
The Christmas season made me think of another image of sleep and dreaming. Georges de la Tour´s depiction an aged Joseph who overwhelmed by fatigue has fallen asleep with an open book in his lap. No wonder that Joseph was tired. Several troubles had plagued the old carpenter, while unexpected events brought wonder and bewilderment. After traveling accompanied by his pregnant wife, a young woman who bore another man's child, Joseph had after two days reached his destination, the census in Bethlehem. Visitors had crowded into the small town and it had been impossible for Joseph to find a decent shelter for his wife, who in the midst of all the turmoil went into labour and gave birth to her son in a cave. Only later were they able to find lodging in a stable, where Mary in lack of a bed had to place her newborn among the straw of a manger. Then several shepherds appeared, claiming that the newborn baby was no other than the by all Jews so much-awaited Messiah. A presumption that seemed to be confirmed when a group of wealthy foreigners, accompanied by a host of servants, appeared with gifts to the infant.
In de la Tours´s painting a young lady, almost a child, has approached the sleeping Joseph, touching him lightly. Like the angel in Ursula's Dream, she probably does not awaken him, though her gentile gesture suggests that she whispers something to the sleeping man. Joseph dreams she is warning him. Accompanied by his wife and the newborn boy Joseph has to flee his country as quickly as possible. The ruthless dictator Herod has been reached by rumours that the little child may become a future king, who eventually will overthrow him. Overpowered by the grotesque fears of a narcissistic ruler Herod will order the immediate slaughter of all children below the age of two.
As people often did in the past, Joseph took his dreams seriously and already the following day he convinced Mary that had to flee as soon as possible. The newborn was in immediate danger and at dawn they left for Egypt to seek shelter and asylum there. The story repeats itself, several hundred years later, innocent and often destitute families are forced to leave Syria to save their lives. At the time of Joseph, Judea was part of the Roman province of Syria. It was not until 70 AD that Judea gained an autonomous position within the province, but it soon ceased. Accordingly, Herod was merely a vassal in the service of Rome´s imperial power.
It was the luck of the little refugee family that at that time there were no Egyptian border guards who in the service of a xenophobic regime stopped them at the border. If that had been the case, the little Jesus would certainly have been killed and today we would not have had a Christianity in which name a large number of nationalist chauvinists are denying asylum to Syrian refugees.
In a painting by Orazio Gentileschi, another masterpiece, we once again find an exhausted Joseph sound asleep. He rests in a position making us imagine that he is snoring. Perhaps the refugees have now reached the security of Egypt. They seem to find themselves within a deserted house. Mary suckles her child, who now seems to be several months old. In the manner of toddlers, he turns his eyes towards the viewer while he greedily sucks his mother´s breast
Sleeping, dreaming men are apparently an integral part of several Christmas motifs. The Gospel of Matthew mentioned that The Wise Men, after submitting their gifts to the Child through a dream "received a command not to return to Herod". I rose from my breakfast table to look for a picture I had seen the day before in a newly purchased book about French cathedrals. It was One of Gislebertus´s capitals in Autun´s Cathedral that had caught my attention. The Three Magi sleep closely together under the same blanket. Their heads rest on a pillow and strangely enough they have their crowns on. They are so close that it seems that one of them has been forced to lie on his side.
As in the de la Tours´s painting, an angel cautiously approaches the sleepers, though here he is an adult, male character, with wings and halo. The angel gently touches the hand of one of the sleeping kings, making him open his eyes, though he has not yet turned his look towards the angel, who is pointing to Bethlehem's star. Perhaps it is not a depiction the dream episode mentioned by Matthew, namely a warning that the kings had to leave without once again meeting with the insidious Herod. The relief may indicate an earlier occasion when God gave the Magi a hint that they should follow the star to find the "newborn Jewish King".
In any case, it is a striking scene. Within a limited space, Gislebertus managed to compress a course of events. Masterfully he depicted the interaction between the figures and even manipulated the perspective in an almost cubist fashion – without giving a disturbing impression the bed is seen both from the side and from the top. It is remarkable that Gislebertus paid so much attention to details, such as the duvet´s fringe and structure and the king's opened eyes. The capital was placed so high up on its pillar that down from the cathedral's floor it must have been difficult to distinguish such exquisite details.
After having considered Gislebertus's capital in detail I lifted my gaze from the book page and looked around in my greyish appearing room. Through the glass doors facing the balcony I watched the compact rain curtains. What a boredom! I decided to rent a car and go down to Autun. Occasionally I did like that in my loneliness; rented a car and drove away to visit cathedrals. Several times I had been to Rouen, Reims and Chartres. Why not go further south? To Autun, Vézelay and Conques?
The clock was not yet nine when I hurried down to the subway station by Censier-Dubenton. Soon I was in Sixt´s office at Avenue de Sax, where UNESCO employees were offered a decent discount. For a day I rented a two-seated Citroën. It was nice to get into the dry warmth of the car. The traffic was not particularily annoying and it was not long before I found myself on Autoroute du Soleil, heading for Lyon. The highway did not give sight for its name. The rain was so compact that I felt like driving through an aquarium. Luckily there was CD player in the car and I had brought with me several discs and could listen to Moustaki, Piaf and Aznavour, content with my decision to drive down to Autun. If nothing unexpected happened, I would arrive there shortly after twelve o´clock.
The rain didn't stop and it was unusually dark for being close to noon. I approached The Triangle of Fear, a two-mile stretch of Autoroute du Soleil along which, between 1984 and 2005, several women had disappeared and some of them found murdered. There were suspicions that one, or several, serial killers had been operating there. The dismembered bodies of at least five women (between thirteen and thirty-seven years of age) had been found close to the highway. Two men had been sentenced for two of the murders, but they had denied any knowledge of the other disappearances. The thought made me depressed and I appreciated that I could make a turn towards Autun before entering The Triangle of Fear.
At last the rain ceased and I could admire the Autun Cathedral. Like so many other of its peers it hovers over the roof tops of the small town like an Atlantic cruiser. The sun broke through the clouds, lighting up the landscape and the cathedral, which pointed spire made me imagine it as a rocket directed towards eternity.
Before I visited the cathedral I enjoyed lunch in the cosy warmth of a rural inn. The village of Igornay is a few miles north of Autun. I went there after I over a cup of coffee in a bar had asked about the best restaurant in the area. To warm up my soul and heart, dispelling the general gloom, I chose a Bouef Bourgignon and some good wine to accompany it. After all, I was in the middle of Burgundy and did not have any other choice than to enjoy a savoury Burgundian meat stew, accompanied by an overly expensive Pinot Noir from 1996, convinced to do so by the rather young and bearded restaurateur who insisted that I should make such a choice, since according to him 1996 had been one of the absolute best wine years. I do not understand such subtleties, but found the wine to be quite good.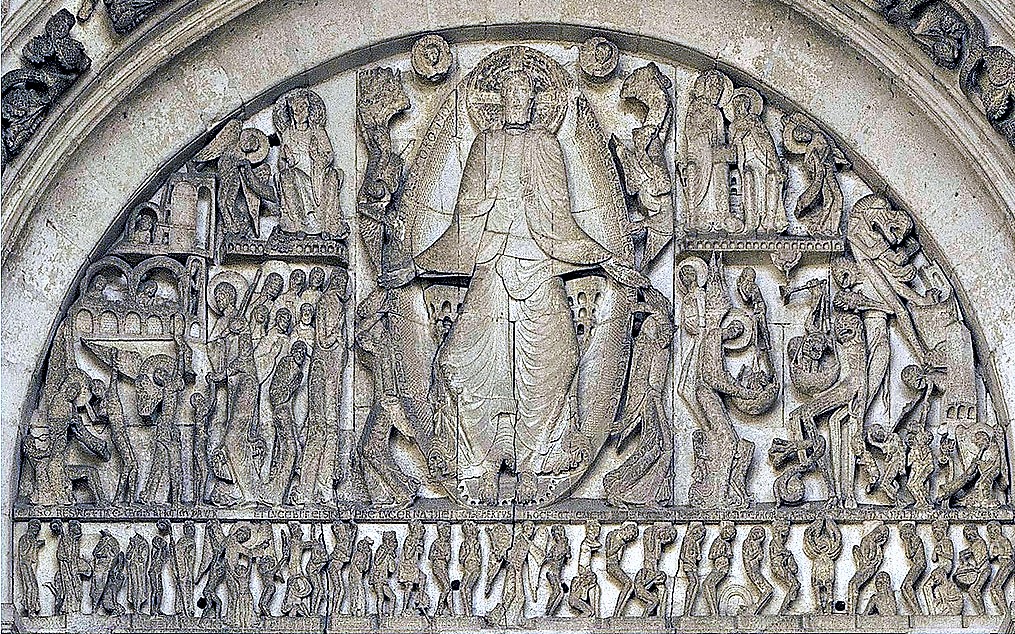 Heartened and inspired I drove back to Autun. Already the entrance to La Cathédrale Saint-Lazare persuaded me that I made a great decision driving down there; the visit would be a memory for life. The cathedral was erected during the second half of the 12th century and constituted one of the stopovers along one of the most important pilgrimage routes towards Saint James's tomb in Santiago Compostela. A few miles north was the next halt, the cathedral of Vézelay with it´s tomb of Mary Magdalene. The Cathedral of Autun was built around the tomb of Mary Magdalene's brother, Lazarus. To understand why these siblings ended up in France, we might return to Voragine's Golden Legend, which tells us that Jesus´s close friends Mary Magdalene and Lazarus, whom the Master himself had awoken from death, together with seventy of their followers by a Roman governor had been put on a boat without rig and rudder and taken far offshore to be drowned. However, "God Almighty" brought their ship safe to Marseille, where Lazarus later became a bishop.
Sometime during the tenth century a bishop managed to buy Lazarus´s relics from a church in Marseille, the sellers kept his head, and brought the remains to Autun. An impressive monument was erected above the corpse of Lazarus and a mighty cathedral was completed by the end of 1190. At some point in the late eighteenth century, fanatical revolutionaries destroyed the tomb of Lazarus and the magnificent sculptures of the north portal, only some suggestive fragments remain, such as a grieving Saint Andrew from the tomb monument and a famous representation of Eve from the portal, more about her later on.
Thankfully, by a happy coincidence, one of the most powerful works of art history was preserved – the tympanum of the west façade, with its remarkable representation of The Last Judgment. A narrow-minded and obviously aesthetically blind bishop considered that Gislebertus´s unequalled masterpiece was too mediocre, primitive and ghastly to be worthy of adorning his cathedral and did in 1766 order that the tympanum had to be plastered over, while the surrounding sculptures were broken down, the same fate befell the head of Christ that stuck out of the coated area. It was not until the 1830s that medieval masterpieces could be appreciated once more, not least thanks to Victor Hugo's popular novel The Hunchback of Notre-Dame from 1831. A chaplain wondered what could be hidden under the thick layer of gypsum covering the entire tympanum and in 1837 it was possible to general wonder and admiration to reveal Gislebertus's impressive vision of The Last Judgment, which under his supervision had been created between 1130 and 1135. Proudly, the master had under Chrit´s feet carved Gislebertus hic fecit, Gislebertus did this. In 1948, Christ's head was found in a nook of a local museum and it turned out to be a perfect fit on the broken neck.
In the throng of figures populating entire tympanum we find three pilgrims walking up towards the Golden City of Heaven, perhaps reflecting the sense of wonder, awe and maybe even fright that may have taken hold of many medieval travellers who had come a long way to pray for health and healing by St Lazarus´s tomb.
Several of these pilgrims were affected by unhealed sores and leprosy, seeking relief or maybe even a miracle by the side Lazarus´s grave, the leaper who had been resurrected from death. Lazarus had earned his importance as a remedial saint due to the fusion of three biblical figures. Primarily he was the brother of the sisters Mary and Martha of Bethany. They had sent for Jesus telling him that "he whom you love" was very sick. However, when Jesus arrived Lazarus was already dead, though Jesus was able to raise him from the dead. The fact that Lazarus was assumed to be suffering from leprosy originate from the Gospel according to Matthew, which mentions that it was during a dinner in "Simon the Leper's house" in Bethany that Mary anointed Jesus' feet with precious oil, something that has led to the assumption that Simon was in fact Mary's brother, Lazarus.
The third fusion may seem to be more far-fetched because it tells a story about a man dying in Palestine, though Lazarus was believed to have died in Southern France. Jesus had told a parable about a rich man who lived "every day in joy and feast," while "there was a certain beggar named Lazarus, which was laid at his gate, full of sores, and desiring to be fed with the crumbs which fell from the rich man's table: moreover the dogs came and licked his sores." A peculiarity about this story is that it is the only parable that has a character with a name. But, could this really be the same Lazarus who later appeared in France? The sick and starving Lazarus died and after death he came to rest in "Abraham's bosom", while the rich man ended up burning in "Hades". The rich man calls up to Abraham and asks him to allow Lazarus to bring him a drop of water to quench his thirst and also warn his five brothers, who still are alive, so they did not like him ignore the sick and needy and thus ended up in his precarious situation. Abraham replies that both the rich man and his brothers had already been warned by Moses and the prophets and since they did not listen to these previous warnings, none of them would be convinced of how to behave in a righteous manner – not even "if anyone comes back from the dead". The last words were taken as a proof that Jesus' parable, actually was a description of the fate of his good friend Lazarus, whom he raised from the dead and that this was the same Lazarus who later died in France.
That we, unlike the rich man, should take care of lepers and starving fellow beings led during the Middle Ages to the erection of special care institutions. Most famous was the quarantine hospital for plague victims on the island of Santa Maria di Nazarath outside Venice. It was established in 1423 and the word Nazareto was formed from the name of the island, as a name for the hospital. After a few years, by confusion with Lazarus, was transformed into Lazaretto and monastic orders soon spread the institution in the entire Europe.
As the leprous pilgrims entered under Gislebertus's powerful tympanum they could glance up at the pillar capitals surrounding the Last Judgement. In his vigorously drastic manner Gislebertus had presented almost comically unsightly demons, whose awfulness became unpleasantly frightening through their inhumane bestiality. One capital depicted Jesus´s Lazarus parable and on one of it´s sides it looks as if the bigger of two devils is pushing his smaller companion towards Abraham, who raises his hand to protect himself and the alarmed Lazarus from Hell's assaulting subordinates.
On a capital inside the cathedral, a supernaturally large devil raises a stone towards Jesus asking him to turn it into bread, though assisted by a protective angel Jesus calmly rejects the proposal.
Even more dramatically is the tympanum´s portrayal of the tortures inflicted on condemned souls. By blowing in a huge horn an angel announces the initiation of The Last Judgement and sinners are by chains hoisted up from their underground slumber.
If there is any doubt concerning the virtuousness of some of the deceased souls they are weighed on the scales of Archangel Michael, who if a good person's soul is weighed down, in a protective gesture closes his hand round the pan of the scales, while on the opposite side the Devil does everything in his power to make the soul of an obvious sinner as light as possible to make it become part of his infernal reign – "You have been weighed and found wanting". Hell's Master cheats by raising one arm of the scales with one hand, while he with the other grabs a damned soul by his hair to throw him into Hell´s burning pit.
The devil is extremely active, one of his feet, our rather claws, is clasping a desperately screaming human soul, while gleeful demons scoff at the wretch´s boundless anguish.
Suspected sinners are already being separated from delighted and revealed souls by an angel who with a raised sword drives away the despairingly crouched malefactors towards Hell's eternal torments, while souls of the blessed are lifted, or raised, towards the gates of Paradise.
On the right side of the tympanum, grotesque demons and dragons are in full swing devouring and tearing at the defenceless and naked bodies of condemned sinners.
In the tympanum and inside, on the cathedral's capitals, demons are scrambling and hustling. They appear to belong to a very special genus. Angrily and grotesquely amused they are enthusiastically accomplishing their tasks. Like a couple of devils anxiously assisting Judas with his suicide.
Gislebertus´s hard-working demons are reminiscent of other contemporaneous representations of infernal torments. Among reliefs in the somewhat more southerly cathedral of Conques the activities of the demons seem to have been inspired by sadistic spectacles performed by professional tormentors during public executions, which often were not only limited to simple hangings or decapitations, but could consist of extended theatrical performances with carefully calculated, extremely sadistic torture, staged and performed by hard-working executioners.
Inside the cathedral we find a variety of such representations. Some are depicted as rhythmically integrated elements of the Corinthian capitals that form the base for the reliefs. It is often difficult to discern the meaning and origin of these strange works of art, as here where two demons seem to be preparing themselves for the upcoming torments that will be inflicted on an unfortunate victim, who does not know what to expect.
Gislebertus's many capitals do not seem to follow any fixed pattern or prepared programme. There are several versions of odd, quite unknown saintly lives. For example, depictions of the martyrdom of St. Vincent of Saragossa who suffered torture by having the flesh of his body torn away with iron hooks, while his wounds afterwards were scrubbed with salt before he was roasted alive. When he did not die from these torments he was thrown into a cell sprinkled with sharp potsherds. Still, he did not die. His executioners placed Vincent in a sack and threw him into the sea. He floated ashore on an island, after crawling out of the sack he laid naked on the shore, guarded by eagles until some Christians found him and could give him The Last Rites.
Another capital shows how Simon Magus in magical competition with St. Paul and St. Peter, who holds a huge key in his left hand. After using a pair of artificial wings to lift off the ground at the Roman Forum, Simon Magus falls headlong to be crushed when he reaches the ground, while an elated devil thrilled and greedily watches the scene.
On my walk towards the altar I found representations of The Seven Deadly Sins, among which Greed is most memorable. With a huge mouth opening up to his insatiable interior he holds two money bags in a steady grip.
As in the marginalia of medieval illuminated manuscripts Gilslebertus also portrays a multitude of more or less grotesque fable animals, such as a centaur firing an arrow into the gap of a winged dragon, hounded on by a warrior who with a helmet, shield and sword sits on its tail.
Another warrior pierces the abdomen of a griffon.
Samson tears apart the jaws of a lion.
On a capital I discerned Aesop´s fable about a crane and a wolf. The one who tells how a chicken bone got stuck in the throat of a voracious wolf. A crane ventured to stick his long beak into the wolf's orifice and remove the bone. When the bird asked for a reward, the wolf replied: "Isn´t it enough that I let you take your head out of my mouth without snapping it off?"
Another capital illustrated a strange statement from The Iliad mentioning that Africa's pygmies were involved in a constant battle with the cranes, which in winter migrated to their homeland.
We also find less dramatic scenes, like a choir, perhaps with King David in the lead, singing and playing their instruments.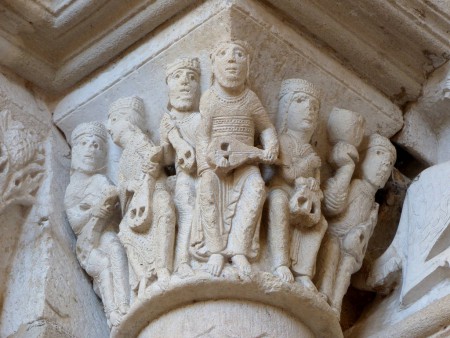 Or a man who, over his shoulders, holds a heavy beam with bells that a couple of musicians are beating with hammers.
While I strolled along in Autun's cathedral with my neck aching from my gazing towards the high-placed capitals, I was approaching the ultimate goal of my journey – the capital with the sleeping Magi. I knew I was closing in on it since high up at one of the pillars there was a capital depicting children being slaughtered by chainshirted soldiers.
It was then nice to discover that the capitals telling about the birth of Jesus were only copies. In order to admire the sleeping wise men I did not have to strain my eyes and neck. The original was kept in a bright and beautiful Chapter Room reached through a staircase to the right of the choir. They had been brought there by the middle of the 19th century when it was feared that the heavy central tower could collapse. So far had the authorities come after the eighteenth century when the medieval sculptures had been broken down since they had been considered to be both ugly and frightening. Now the central tower was strengthened and copies made of the finest capitals, so they could be safely preserved for posterity.
In the Chapter Room I could in detail admire the sleeping Magi, as well as a moving scene where the three men reverently approach the infant. One of them makes a gesture as if to take off his crown, while another has kneeled down and gently bent forward to hand over his gift to the child. It is hidden inside a receptacle and the little Jesus curiously lifts the lid to see what is inside the urn.
Another scene presents the holy family on its flight towards Egypt. While holding one of the donkey's reins in one hand, Joseph is anxiously examining the surroundings. Mary sits in a women's saddle holding a protective arm and hand over her baby.
On my way out of the cathedral, I once more lifted my gaze towards the tympanum, but now I did not scrutinize the devils and demons but instead watched the saved souls who rose up towards Paradise. There was also Peter with his huge key, taking a saved soul by the hand, while an angel lifted another soul towards Paradise's covered balcony. Like a child, another soul clings to one of the supportive angel´s legs.
I walked across a square in front of the cathedral, a fountain that appeared to imitate the appearance of the cathedral´s high tower. After a few meters´ walk between houses made of the same grey sandstone as the cathedral I reached the round corner tower of Nicolas Rolin's house. This extremely rich and powerful man, who lived between 1376-1462, was during forty years a chancellor at the court of Philip the Good, during Burgundy's heyday. His elevated position allowed the wealthy Rolin to hire several incomparable Flemish artists, such as the brothers van Eyck, Rogier van der Weyden and Jean Hey (Maître des Moulins).
In the museum that is now housed in Rolin's former residence, I found another of Gislebertus´s masterpieces – Eve from the cathedral's north portal, which in 1766 had been completely destroyed on the orders of a stupid bishop. The deep relief depicts Eve as she whispering holds one hand by her mouth, leaning forward while keeping the forbidden fruit of knowledge hidden in her other hand. That relief was for a long time buried as a foundation stone of one of Autun's many grey stone houses and was discovered when the house was demolished during the second half of the 19th century. This sculpture is what remains of the entrance by the cathedral's north façade. We now know that there was also a relief depicting Adam. A few years ago, two small alabaster reliefs surfaced, most likely copies of Adam and Eve from Autun, their origin is unknown and they are now displayed in the millionaire and artist Yuko Nii's collection in Brooklyn.
In the Louvre we find Jan van Eyck's famous Chancellor Rolin´s Madonna, which once hung in the Autun´s cathedral.
Another of masterpiece of world art, also ordered by Chancellor Rolin, is the altarpiece of Rogier van der Weyden in the village of Beaune next to the Autoroute du Soleil, a few kilometres from Autun. It was created in the mid-15th century to adorn the chapel of Rolin´s at that time state-of-the-art hospital Hospices de Beaune. Rolin wrote:
Disregarding all human concerns and in the interest of my salvation, desiring by a favourable trade to exchange for celestial goods temporal ones, that I might from divine goodness render those goods which are perishable for ones which are eternal ... in gratitude for the goods which the Lord, source of all wealth, has heaped upon me, from now on and for always, I found a hospital.
In a realistic manner Rogier van der Weyden's altarpiece reflects the same intense drama as the one Gislebertus three hundred years earlier had described in his nearby tympanum. By van der Weyden we are confronted with a completely impartial soul-weighing Archangel Michael, who unmoved looks straight ahead. Around him are no swirling, guffawing demons and the archangel´s aspect of imperturbability seems to reflect Gislebertus´s Christ presiding over The Last Judgment and like van der Weyden´s Michael he is also surrounded by four, flying angels.
As with Gislebertus, van der Weyden does not miss out on the boundless despair of the condemned souls. Their horror of the awaiting eternal torments is so tangible and realistically depicted that the observer cannot avoid identifying with the agony of the condemned on their inevitable path towards Hell´s eternal damnation and endless suffering. However, like Gislebertus van der Weyden also depicts a passage from darkness to light. The despair and fear of the condemned are contrasted with the relief and warm welcome the saved souls encounter at the gates of Heaven.
Darkness had fallen, the Hospices de Beaune closed half past five so I wouldn't get there in time. Instead I drove north towards Paris. Satisfied with my day I came to think about why I had ended up in Autun. How I had seen the nativity scene with the three Magi in the market stall at the Champs Elysées and then found the picture of how an angel showed them the Bethlehem star. That picture became my guide to Autun and an experience that has stayed with me ever since. From the rainy, melancholy Paris, I had reached Gislebertus stories in stone. A journey from darkness to light, like the one that takes place in Gislebertus and van der Weydens depictions of the last days. The day after my visit to Autun, I went to my family and Christmas in Rome.
Neilsen Blum, Shirley (1969) Early Netherlandish Triptychs: A Study in Patronage. Berkeley: University of California Press. Seidel, Linda (1999) Legends in Limestone: Lazarus, Gislebertus and the Cathedral of Autun. Chicago: University of Chicago Press. Tournier, Michel (1981) Gaspard, Melchior & Balthazar. Paris: France Loisirs. Voragine, Jacobo di (1998) The Golden Legend: Selections. London: Penguin Classics.